Thursday, October 01, 2009
Whether it's feeding a group of board members or entertaining a crew of sponsors, we are rarely managing fewer than ten people. Entertaining a large group has it's own challenges and I think we have identified a number of things that could help anyone facing a large dinner party – but most interesting to me – is that learning these short-cuts makes all entertaining easier – regardless of the size of your guest list:

Extravagant Tip #1 -- If your kitchen can possibly accommodate it, always have two dishwashers.. I know you think you don't have room. But listen, after experiencing the ease of maintenance and clean-up, I wonder how I ever did without the second work-horse. This is not a large kitchen but we do feed a crew every day at lunch and we entertain here in the evening, with crowds from 8 – 30. We've taken advantage of the height in the office and looked up for more storage. If you haven't made better use of your own vertical space, it's a great challenge - the area above your kitchen cabinets is so rarely well utilized, and if keeping things you use less frequently (huge roasting pans, blenders, extra cookie sheets or massive casserole dishes) up and out of the way, can allow you to include another dishwasher – I urge you to do it. You will never again have to wait until the serving dishes are clean before you can load the dinner plates. It makes all the difference. Turns out to not be so extravagant.

Smart Tip #2 -- When you serve a large crowd with little or no help (servers/wait-staff), try to choose food that can maintain its quality sitting on a buffet table. Think of the wonderful antipasta buffets in Italy, that sit on tables, looking so appetizing through the afternoon or as we approach dinner. Roasted or olive-oil slicked vegetables, bean stews, undressed or lightly-dressed salads, recipes that retain their warmth and texture in deep, heat-holding casseroles. And remember, collect bowls and dishes of different heights with feet and stands. Look for display stands or plinths in craft stores or use a few books to get a different height going. It makes a real difference in the display. We place the food on the marble counter as a buffet, and serve our guests from there. And they carry their plates back to their 'assigned' seats at the table.




I often paint place-cards, which speak either to the event or the season. They don't take long to do. I keep a stock of single deckled cards – (they come in boxes of 100, sized 2 ½ X 3 ¾") on hand and we have twenty little silver rabbit card holders ready to perch at every place. But you don't need special place card holders, there are many ways to make place cards work. Easiest is simply setting them on each plate. But you can also punch a hole in the card, thread a ribbon through and tie the card to the napkin with a bow or a creative slip knot. Or you can slip the card into the cuff of a wide ribbon as a napkin ring. And, contrary to my mother's belief, one doesn't have to be particularly talented to make them – in fact, the more naïve they are, the better they might go down. But I urge you to give it a try. From watercolors to collages of torn tissue paper, it really is worth the effort. They add a touch of special attention to the evening and most of all, they avoid the jockeying about the table as each guest wonders where to sit – so your attention is not diverted from serving or stirring or plating or all of the things you'll need to be doing.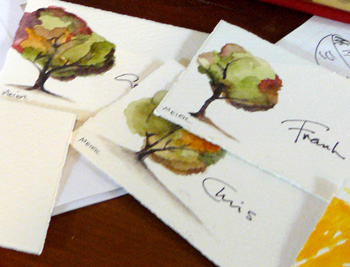 As a note, I do not try to separate husbands and wives in our seating plan. In fact, we find that couples more often support one another in remembering interesting stories, prompting an anecdote or urging participation and adding to the fun of an evening. We urge you to break that old dumb rule. In fact, we urge you to break most old dumb rules.

Maybe it's because we are smack in the middle of the most cosmopolitan city in the world and never far from a four star meal, but I find that indulgent, comfort foods are the things guests seem to appreciate the most. Creamy baked macaroni and cheese, bread pudding, chicken pot-pie with cornbread crust, a very special four bean chili we make with smoked brisket of beef, rich and spicy moussaka, hearty soups – like squash, apple and onion, a flavorful stew of white beans with Italian sausage, rosemary and fennel -- all have become signature dishes here – the things friends ask me to make for their birthdays or special dinners. We still experiment, of course –I butterflied a leg of lamb recently, stuffed it with spinach and feta and roasted it with garlic, rosemary and potatoes. Great. And I'm about to tackle a classic bouillabaisse – right from the Larousse. Stay turned!