Tuesday, May 24, 2011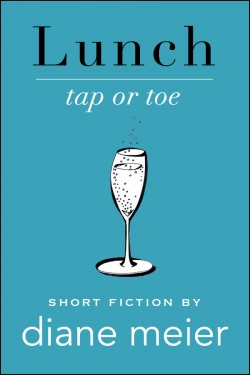 My latest short story, Lunch: Tap or Toe, is up on Kindle and about to show up on The Nook, etc.
For so many reasons, developing these little shorts is so different, in process, from
The Season of Second Chances
. Closer to the bone, I'm not afraid of being 'off putting' to a larger audience. These stories are very 'insider,' and, I think, wickedly funny. Accent on wicked. I am writing, mostly, to please myself – and it's a great experiment.
The Season of Second Chances
was far more collaborative. For good and bad I think, The response to SoSC was so generally warm and favorable that I can hardly complain. But a lot of credit has to go to my extraordinary editor, the wonderful Marjorie Braman, who advised me to take a little of the sting out of Joy Harkness. Doing so without losing Joy's sharpness was a challenge; though I think we got there. And lo and behold, those readers who didn't warm to the book, often mention the fact that Joy is hard to like. No kidding, I think when I read one of their reviews. You should have seen her before Marjorie.
Interestingly, the most positive and satisfying reviews –both consumer and professional, talk about the fact that the reader is included in an option of changing their opinion (their second chance), at least about the main character. That's part of the fun of the book. Those who 'get' it, seem to have enjoyed the chance. Good for them. Good for me.
This time out, with
Breakfast, Lunch and Dinner
, I'm on my own – as much an experiment as anything else. The first story has been out a week and is already in the top ten of Goodreads Short Stories. Hooray!
But – remember, I'm a marketer. I want to understand and share with you all the things that work and the things that don't work. And nice as my reviews are -- we've not sold a zillion stories.
So – I ask you – is there something that requires a dampening down of personality if you intend to satisfy a larger audience? Is it possible that I'm projecting a negative and reactive response to "professional judgment" designed to engage as large a group as possible?
Is my own 'voice' self-indulgent and far too narrow for a professional approach to writing? Or do we all need to hone that personal voice and hold on, until an audience, no matter how big or small, takes hold?
I'd love your thoughts.
In the meantime, here's Lunch. Dinner is not far behind.
Description of Lunch:

Park Avenue Billionaire with big appetites and an even bigger sense of entitlement calls upon a childhood friend for a favor. Not exactly a romp through the stylish, New York world of Marketing and Money, but a witty and yet critical glance from a front-row seat.
Tap or Toe, the second of a series of three short stories
(Breakfast, Lunch, Dinner)
, takes you behind the scenes in the lives of characters who create the images we come to recognize as Status and Style.