Thursday, May 12, 2011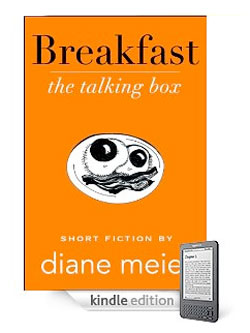 For so many reasons, yesterday – which was, by all accounts, one of the ten best weather days of the year, will go down in my book as one of the best days inside the office too! Here are some of those reasons:
Yesterday we published my Short Story: Breakfast, The Talking Box, the first in a series of three that will come together to form: Breakfast, Lunch, Dinner, stories that look inside (with some humor and a good dose of self-criticism) my world of marketing, fashion, advertising and style. The stories are gossipy, a little sexy – and full of behind-the-scenes information, for those of us who love process. I know I'm not the only one out there!
Most of all, it's MEIER's debut as an imprint. And the look of the graphics, from the color of the cover to the illustration (encouraged by Ben and David and Frank from the doodles that appear on my pad at meetings) to Ben's wonderful work on our proprietary design and title pages, was nothing short of a joy!
It's $1.99 - as a download from Amazon/Kindle – for your Kindle, your ipad, your iphone, your android phone… the Nook takes a few days to load, but it should be there next week. And we're looking at Smashword. For the moment, here's the link to the Kindle store:
http://amzn.to/lNV6t7
But wait! as the Infomercials say, There's more!
Our lunch guest, here at 907, was one of my heroes. The brilliant illustrator and painter – Maira Kalman. She was, in person, as generous and lovely and warm as her work. She's off to Ireland on a series of projects, and Frank will try to make some good introductions to ease her way. But I'm already looking forward to seeing her again. She's illustrated The Elements of Style. Something close to our hearts here at 907. And those of you who love The New Yorker are familiar with her covers. I am especially moved by her book, And The Pursuit of Happiness. Here's the link:
http://amzn.to/joxjvv
And -- Even more…..
We celebrated Ben's birthday and I'll let you use your imagination when I tell you that there was some revelry in his Birthday Suit! Great fun – but no pictures, please!