Monday, March 07, 2011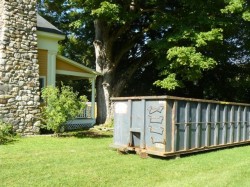 The appearance of a dumpster outside our little farmhouse says it all:
This house is about to be taken apart
. Exciting, I suppose, but disturbing a nest can be scary. Especially since we didn't intend to do it.
Last winter, after having contractors and builders all over the property for the years it took to build the barns, hack out the new drive, sink the well, make the court, and generally manage some very unruly property, we were looking forward to quiet and privacy. Then came the leak in the ceiling of the den.
The investigation turned up so many things wrong with the plumbing, dating back from the turn of the
last
century - that we had few options but to rip it all out. We meant to rip out the plumbing, a big enough job in itself, but what we wound up taking apart was – everything.
A house built in 1830 is going to have "issues". Some of them, like the wonky floors, are part of the charm of an old house. Some of them, like dangerous wiring, no closets, crumbling chimneys – were anything but charming. And so, as we walked from room to room, noting the things that were dangerous or broken, and separating them from the things that were just infuriating, we found that we couldn't avoid disturbing, if not replacing, a single surface.
We've been living in the guest room of the barn for more than a year. It's a very pretty, very comfortable room for a long weekend. Do I need to say more? But in that time, we've turned around all kinds of problems and challenges, one floorboard, one nail, one paint chip at a time. Frank and I have agreed on almost every detail. And the very few times we had a difference of opinion, we each took turns trusting the other, and found we were exactly right to do so.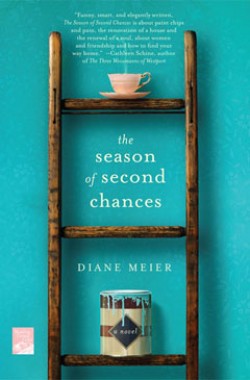 This notebook will register the renovation of our house. Every week you'll see more of what we faced and how we solved a problem or expressed an idea. Many of the issues we faced were reflected in the challenges my central character, Joy Harkness faces in
The Season of Second Chances
. Especially since I believe that a house tells you what it needs in terms of bones and light and its moment on earth. But if it's going to be a
home
, what it wants most of all, is to serve. And for that to happen, you have to know what you're going to ask of it. How do you live? How do you want to live?
We suggested, when our publishers did not want to call the book,
Teddy Hennessy
, as I had titled it, that the name be:
The Restoration of Joy
. They didn't like that either, but SoSC won their approval. Now that I've come out the other side, I think
The Restoration of Joy
is, indeed, the most appropriate name. I even know what it feels like.
On top of it, this whole process is a great way to celebrate the printing of
The Season of Second Chances
in the trade-paperback version. Take a look at it's smart, fresh, renovated cover!
Check back each week for the next installment. And share your ideas with our readers and followers. Together we'll discover some great examples of real-life-style!