Friday, June 22, 2012
This past weekend Frank and I were treated to a Bloomsday event that touched and delighted us, not only for its quality, its attention to detail, its pitch-perfect manners, but also for its overwhelming generosity. And about events - I don't give complements lightly.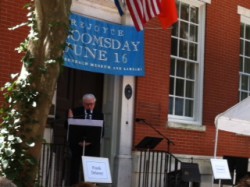 Here at MEIER, we have thirty years of client launches, anniversaries, market week events and corporate celebrations under our collective belts. We spent more than a million dollars in one evening for the fiftieth anniversary of a great magazine, we wrote and produced a book about the state and style of weddings across America (which required some serious study about celebrations, marital and otherwise). We've a history of managing top-notch market-do's, from fashion to food, to retail - and we even considered launching a Neiman Marcus Christmas book with a real live cattle drive up Seventh Avenue. Okay, the mayor's office proved more difficult to wrangle than the actual cattle promised to be – but – I'm just sayin' – we've been there. And my praise for throwing the Great Event is not earned lightly.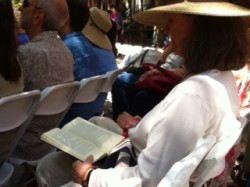 The Rosenbach Museum and Library in Philadelphia cleared all evidence of pre-Ulysses life (parked cars, most notably) from Delancey Place to set up a thousand chairs and make room and welcome for James Joyce and the love of that surrounds him and his great
Ulysses
. Their fourteenth annual Bloomsday celebration encompassed celebrities, singers, dignitaries, musicians and readings by the neighbors and friends of The Rosenbach. Perfectly timed, perfectly chosen. The audience was more than half the equation, attentive and comfortable in a crowd of like-minded pilgrims, following along on their own texts – many of which were visibly scribbled with notes. And there they happily stayed, for hours and hours and hours. Marvelous.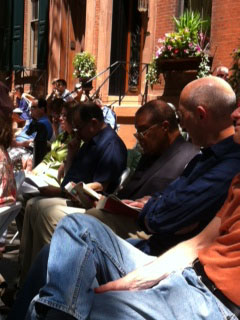 On an afternoon of incredible beauty – a great blue sky, the breeze rustling the papery leaves of the trees overhead, the dignity of the Rosenbach houses and the peaceful, quiet domesticity of the homes along Delancey Place, we heard the ancient Greek of Homer, read by one of Rosenbach's brilliant archivists, set as our call to action. Ulysses was, indeed, on those shoulders. Frank followed with the lead passage – "Stately, plump Buck Mulligan…." and we were off and running. Through the day, singers of arias as rich and true as you'd find on a stage at the Met, and tenors singing songs Joyce may have sung himself, blended in perfect harmony with passages chosen to move us through the chapters of
Ulysses
in understanding and celebration. Someone must have made a pact with the ghosts of Sylvia Beach and Harriette Weaver. It seems as though they're still watching out for their Jim. No sirens, no thunder, no squabbles. Not a song was lost. Not a chair was broken. No babies cried. Even the dogs held their barking for applause.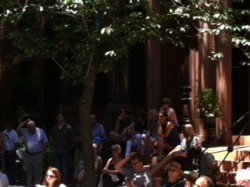 Frank writes movingly about the day here
. I can only second the motion, but do so with great enthusiasm, and advise: If you have next year's diary at hand, write in: "Philadelphia – Bloomsday - Rosenbach" right now, and make a reservation at a hotel near Rittenhouse Square. Or call your old college roommate – the one who lives in Philly - and ask if you might sleep on his couch next June 16th. It's "worth the trip," as Michelin used to say. It was, in short, the new standard of "How to throw a Bloomsday." Never to be forgotten, I am so grateful I got to accompany their headliner. (0)
Comments
•