Thursday, December 09, 2010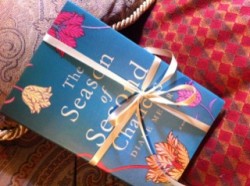 One of the many gifts
The Season of Second Chances
has given to me over the last nine months, was the chance to connect with readers who reached out to tell me stories of their own Second Chances.
I've heard tales of courage and fortitude, wit, wonder, wiles, windfalls, set-backs,plenty of serendipity -- and some cases of what looked simply like blind luck. But scratch that surface, and it's rarely the case. The stories I heard reinforced a truth that now seems more evident than ever we carry our fortunes with us. Luck may have less to do with success, than being prepared for the moment. Many of those stories followed the same themes. And many had the same great outcomes full of hope and optimism.
Do you think you could condense your stories down to 140 characters, so that SO many more people could be inspired? It wont be easy but I hope you can!
And to encourage you to do so, if you'll tweet them with the hashtag #2ndChances this week, on Monday the 20th, I'll pick my favorite story--tell you all why--and send the winner an autographed copy of
The Season of Second Chances
in time for Christmas giving.
After all, as so many of you said about this William Morris-dressed, end-paper enhanced, deckled-edged book--its a beautiful object on its own.
We think it looks like a gift that's already been gift-wrapped! Talk about seizing the moment!