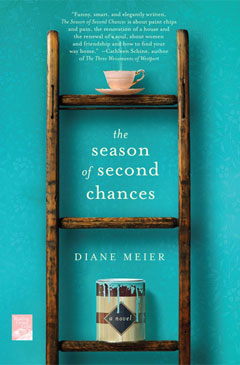 Publication Date: Tuesday, March 30, 2010
Paperback release date: March 31, 2011
A world of possibilities opens up for Joy Harkness when she sets out on a journey that's going to show her the importance of friendship, love, and what makes a house a home
Coming-of-age can happen at any age. Joy Harkness had built a university career and a safe life in New York, protected and insulated from the intrusions and involvements of other people. When offered a position at Amherst College, she impulsively leaves the city, and along with generations of material belongings, she packs her equally heavy emotional baggage. A tumbledown Victorian house proves an unlikely choice for a woman whose family heirlooms have been boxed away for years. Nevertheless, this white elephant becomes the home that changes Joy forever. As the restoration begins to take shape, so does her outlook on life, and the choices she makes over paint chips, wallpaper samples, and floorboards are reflected in her connection to the co-workers who become friends and friendships that deepen. A brilliant, quirky, town fixture of a handyman guides the renovation of the house and sparks Joy's interest to encourage his personal and professional growth. Amid the half-wanted attention of the campus's single, middle-aged men, known as "the Coyotes,"and the legitimate dramas of her close-knit community, Joy learns that the key to the affection of family and friends is being worthy of it, and most important, that second chances are waiting to be discovered within us all.
"Change rarely happens in doses large enough to choke you. Every day you swallow a little more and expect a little less. So I don't remember the day I stopped hoping I would become that self-assured woman who knew where the important people lunched. I don't know when I last believed that I would grow into someone Susan Sontag would choose to meet for an early supper and a movie we might then hack to pieces.

I didn't know I'd given up. And yet, when opportunity beckoned, to fly yet another coop, I jumped headlong into the breeze that might carry me away from the niggling shame that I never would become That Woman whose reactions were Chemical."
Backgrounder
While the character, "Teddy", emerged, almost fully formed, in response to an actor my husband, Frank Delaney, was considering for a film he was writing, the narrative of the world I had to build in which Teddy and Joy might live, came from living through and recognizing some of the choices that seemed to limit ambitious women who grew up in the culture of modern feminism. In professional environments always controlled at the top by men, our game plans for achievement, acknowledgment and reward were circumscribed and defined by men's idea of our value, which consequently, became our idea of our value.

As we look for our "next acts", I'd love to suggest that the tools used in getting ahead in the first half of our lives may have been too limited. There are so many more options -- not only in what we do, but in how we feel about what we do. We can learn and grow and find fulfillment that seemed to elude us, not just with a change of jobs but far more importantly, with a change of attitude.

We have Joy change her job, her location and her home. We surround her with characters and incidents who dictate many of the options she may have been incapable of facing on her own. And while she may complain -- only at the end of our story does she come to recognize that all through the telling she has made choices that have significantly improved her life. We see more than she does.