Tuesday, November 17, 2009
The first in a never ending series of tips from Teddy—imagined or otherwise.
In The Season of Second Chances, handyman-extraordinaire, Teddy Hennessy, may be emotionally blocked, but his power shows up in a talent to blend high and low solutions with equal grace and practicality. It's the kind of genius that has made the magazine Real Simple essential reading for so many.
Through most of the book Teddy is renovating our narrator, Joy Harkness' tumble down Victorian home. And while he knows, as well as any architectural historian, every move in putting the puzzle to rights, – from the perfect newel post to colors William Morris might have chosen himself, Teddy shares brilliant short cuts that might stretch Joy's budget or keep things moving quickly so that she doesn't find herself living in a depressing job-site too long.
Joy's home office is a great example. Teddy creates a room of charm and efficiency on the fly. For instance, he takes two old bookcases, of no particular value, and cuts them in half to create the look of built-ins. Joy tells us about it here:
On the far side of the room he put my old bookshelves, now divided into four sections only waist high; he screwed them together, added a top and some molding and painted them the same color as the wainscoting behind them. Instant built-in bookcases!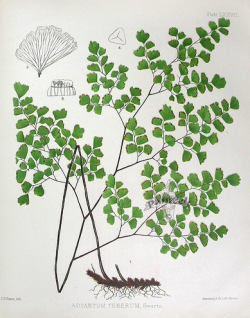 We can see that Teddy's immediately given the room a look of fitted architecture. He created a desk from two filing cabinets, a hollow core door and some legs. The town fabric shop stitched up a kind of slip cover – closed on three sides and open on the desk chair side, out of khaki colored canvas.
He ordered a glass top and underneath the top he randomly placed Xeroxes of pages from a botanical book on ferns. Frankly, I didn't understand the ferns, but he took more of their pages and matted and framed them in a long, low line around the room and I had to admit, it was beautiful.
Teddy painted the little room sage green with creamy white trim and wainscoting. He hung a craft paper window shade on the one long window and painted the bottom with dots of sage green. He painted an old wooden desk chair found at a consignment shop, and had a remnant of dark green carpet bound to fit, nearly wall to bookcase. We can see the room and understand how quickly it must have come together. He gives us the hints to do the same:
Creating the look of built-ins with a bit of simple carpentry, molding and paint can give a room focus, style and practical authority all at once.
Carrying a line of wainscoting or chair-rail and the discipline of two colors will further organize a room with very little effort.
A desk can be fashioned for next to no money that will not only be functional but as attractive as a large, impressive, expensive desk.
The discipline of a repeated theme – in this case the fern botanicals, on desk top and walls, can create a mood and a deliberate sense of style faster and more powerfully than trying to make sense of a room full of valuable decorative items.
The simplest solutions – a craft paper window shade – need not be thought of as a compromise. Its appropriateness makes it beautiful. The embellishment of wit or detail – in this case, the little painted daubs of green, make it personal and give it warmth.
Teddy's hints are found all through the book. All equally sane and generous. Nothing you can't take in and learn from – as you read about two characters facing the possibility of change in their own lives. If they are each equally frightened to face a second chance, neither shirks their professional responsibilities and both share them with us – all through the book. More of Teddy's ideas to come. And Joy's ideas about reading and writing – check in often.