Thursday, April 01, 2010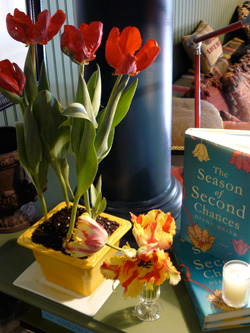 When I look back on my life (however unrealistic finding the time to stop and look back, may seem at this moment), I know that there will be more than a few spectacular moments to string together. How lucky am I. One of them will be last night.
The office never looked prettier or more glamorous. Because the cover of
The Season of Second Chances
was graced with parrot tulips, we let them be our theme, as we filled the place with more parrot tulips than the drive into Amsterdam. When I ordered the 30"X30" rough wooden flat to be filled with tulips, my account man in the flower market was concerned. "Are you sure that you want a rough wooden flat? – unrefined?" But it was great. Strong and bold, it contrasted to all the Edwardian refinement of 907, but made a beautiful point about the flowers themselves – which was the same point, I think William Morris was making, when he designed those blooming tulip patterns.
We took those William Morris patterns literally, from the book jackets to the shirts of our wait-staff, as they passed around the most extraordinarily delicious hors d'oeuvres ever seen. Andrea Giardino did it again – proved herself to be New York's most inventive and brilliant caterer. As our friends left they all smiled contentedly and admitted to eating more than they'd ever eaten at a party. Andrea is a wonder. You can find her for your own events at:
www.andreagiardino.com
.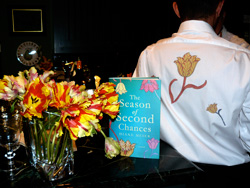 Remember the line – "You only have a first novel launched once"? It weighed on me like lead and filled me with a kind of dread, in thinking there was no dress rehearsal here. There would be only this one performance and it had better be good – it had better satisfy everyone's needs – including mine. And, let's face it, I had no idea what mine were. Luckily, I was led through process by a great team here at MEIER – Ben and David Goodwin, Evelyn Frison and Leah Paulos and Andrea, of course. And together we made a beautiful night out of pressured work day in the middle of a very pressured work week. Another amazing gift.
And if, after hearing my agent, Mitchell Waters, and my editor, Marjorie Braman wax poetic about Teddy and Joy (and me); after my darling friend, Steven Shapiro spoke about the idea of our long and important (and shared with Amy and Frank) friendship; and after Frank talked about his faith in me – if – I could not speak without tears, and the feeling that I had somehow stumbled in on my own memorial service, I didn't get to give the speech I had intended. --- The speech where I managed to thank everyone, to remember names and acknowledge their support, the one where I remembered to tell everyone how this book almost didn't happen. There had been a lot of if's along the way – but most of all, I wanted to make the point that in more than part, SSC is Frank's book. At least a good bit belongs to the moment when I thought I was giving him an idea for a screenplay and he said – But this is a novel – and it's yours --. And he then cajoled and prodded and bullied me into its production –. Teddy would not be here without him. And neither would Joy – and neither would joy.
What a wonderful night. Thank all of you who participated and all the more of you who wished me well. Another moment to string into that lovely ornament of memories. In the end, it's all we have. And that's the good news.