Wednesday, October 07, 2009
Here are some tips – if you want to make entertaining as comfortable as possible:


Keep your linens to a few colors that work together. Here at 907 we use reds, oranges and khakis with classic white -- and we mix and match them so that you can always pull together a great table without going crazy. I look for sales and stock up on napkins and placemats when I see something that works. Always buying 12 – 18, at least, of a pattern or color I know will work with what I have in-house so that a dinner for sixteen can match, but a buffet for 36 can blend. Another great linen hint – bandanas – in bright or surprising colors. I think we bought them wholesale by the dozen and they always look great together – and make a casual meal (like chili or fried chicken and biscuits or baked macaroni) look fun – especially in an elegant setting.



Collect bowls of all different sizes – you can never have too many bowls – and you can rarely have bowls too big. Look for them in yard sales and on e-bay. I am limiting my bowls here at the office to 19C transferware and thick Mediterranean pottery. And, again, all sizes and shapes. And I like the mix of grazed and old with newer classics. As long as the colors are rich, they'll work in this space. And think of compotes and cake stands and bowls with a foot or a base that raises them up above the surface. It can make a big difference in the display. Stockpile them in colors and patterns that support one another – so you never have to worry about what goes with what.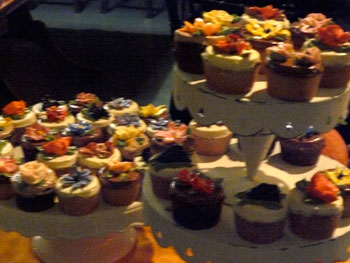 Just like bowls, you can't have too many platters --- Collect all different sizes and shapes. Even if you have to stack them in a closet with newspaper or felt between each platter, even if you keep them under the bed or in a bathtub in an unused bathroom, or stacked in the oven – collect as many as your home will hold. I like the platters that show their age, browned at the edges like cookies, or crackle glazed or with firing marks in the material. No cracks or chips– but all other marks that show how they were used and loved, like the fur on the velveteen rabbit, is okay with me. We use them all the time – and as many as we have – I promise you, I will find more and give them all a good home. Ditto serving spoons. Who cares if they match. Never pass up a good serving spoon at a garage sale or antique store. They're mostly 19C and almost none of them match. So – here's my rule: As long as you've planned them to coordinate or blend, you can never (ever) have too many bowls, platters or serving spoons!

I always sit down and plan out the process for each dinner party. From the theme, to the display of food, and the guests' movements to the table. And then I - literally - draw the things I will need to plate or display before the time to do it. Somehow drawing the options on the platters helps me to organize my thoughts – but I realize it might not work that way for everyone. Sometimes, especially when there are a lot of choices and a big crowd, we actually experiment with the layout of the dishes, working days or hours ahead – using post-it notes as stand-ins for the food on the platters and bowls.




Here's our hint about setting a buffet: Think through how people might 'build' their plates – and look at colors and textures of food. Really think about it. At DogWood and 907, we've collected cake plates, footed bowls and display stands and we sometimes use stacks of books to suggest different levels for eye-appeal. And we intersperse bowls of fruit and pitchers of flowers in with the food to keep it looking fresh and interesting.

If I am serving with wait staff, I like to 'compose' the plates. I do a run through – usually the day before – trying the recipe and making sure there are no hitches. And then – when I get the dish to look the way I want it to – I draw it, with labels and direction - and post it for the staff to follow. I know it's a little obsessive – but my cartoons are so goofy no one seems to mind, and I think the staff actually prefer to know exactly what we want, rather than try to flail about when guests are waiting for their food. The plates are served, just as planned, to each guest.