Wednesday, February 10, 2010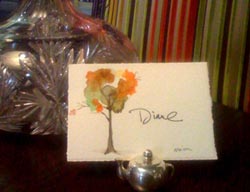 A few months back, in an entry in my "Eye" notebook, I wrote about entertaining, and I mentioned that one of the things I loved to use were place cards at the table. I like them for a couple of reasons. For one thing, they allow you to really think through your seating plan, so that you can try to give the table some balance or help. Sitting a shy person next to an extrovert might create more anxiety than joy – but sitting them next to someone who is kind and inquisitive and attentive, could bring them out of their shell and help them to participate in the table's conversation.
Place cards also give you one more way to personalize the event. If you've brought together your table and food ideas around a theme (a particular ingredient, a country or region, a season, or an event-idea – like dinner after a gallery show or a movie) – you can amplify that very theme in the place card.
So – as encouragement – here is a set taken from my originally hand made, nature inspired place cards -- just in time for the leaves to come back to the trees -- and designed for you to make your mark.
Evelyn and Ben, here at MEIER, have scanned them and created a sheet for you to print on your own color printer, trim and fill in the names. I'd use a good weight of black marker and write with just a little bit of flare. I use a Black Staedtler Permanent Marker. You can find them on line at:
http://www.artstuff.net/
. And it's not such a bad idea to practice writing or printing the names first, by the way. Make sure you print on paper strong enough to stand, if you use a holder. I like as heavy a textured cover weight stock as your printer can manage. Or use a hole punch on the card, and tie them around napkins or the stems of wine glasses.
If you enjoy doing this, let me know – and we'll create a whole passel of cards for you to download and use. Or show us the cards you make up on your own. We'd love to see. And it might give all of us some great ideas!