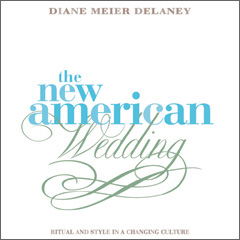 Publication Date: Tuesday, November 15, 2005
There is a new breed of bride who comes to the altar looking to blend families and cultures, status and style, sophistication and mores, and who wants celebrations that appeal to her own unique real-life expression of values, background, customs, and romance.
Diane Meier Delaney was one such bride. While planning her own wedding, she grappled with wedding guides, magazines, and books that spoke to the clean slate of a wasp-waisted, twenty-two-year- old bride who had her whole life ahead of her. But she shared the frustrations of countless brides who couldn't find anything that spoke to a grown-up woman with a richly lived life to be proud of.
The New American Wedding is the first book that acknowledges and speaks to this authentic American idea of the bride and groom and points the way to:
• creating their own ceremony with their own distinctive ritual
• looking for symbols of union that may or may not fit around one's finger
• integrating children and families from previous relationships
• considering new issues of style and status
• managing the challenges of interfaith, interracial, and cross cultural partnerships
• balancing family expectations with the couple's own desires
A comment on the good news of the changing culture that includes beautiful photographs and insider advice from top fashion and jewelry designers, florists, caterers, planners, and photographers who set the trends for American weddings, along with Delaney's savvy, been-there-done-that tips, The New American Wedding will be the must-have guide for the modern bride.
Backgrounder
Who is getting married? Look around. It could be the mother of two, marrying the father of four and inventing a ceremony that blends their families. It could be an African-American Catholic marrying a Japanese Buddhist, creating a ritual that elevates the blending of their cultures. It could be a young doctor and a lawyer who's just made partner, staging a celebration that could never be confused with their mother's wedding. And it could be one of their mothers—sophisticated, powerful, marrying for the third time and forthright in her joy.

The New American Wedding sets a high bar for style books in blending cultural anthropology, direction and inspiration in a vividly designed book of insight, wit, interpretation and new thinking.