Buy Now!
Buy from Amazon.
Buy from BN.com.
Buy from Borders.
Buy from IndieBound.
Buy from Powells.
Buy this book from Henry Holt.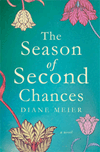 Books by Diane Meier
The Season of Second Chances
The New American Wedding
Join our Mailing List
Contact Information
Leah Paulos
MEIER
907 Broadway
New York, NY 10010
646.361.2232
leah@dianemeier.com
For more contacts see our contact us page.